Serpentine Belt
By: Luke Shaff ~ 11/15/2018
Question:
Luke's Automotive said I need a new serpentine belt but I don't see any cracks in it. Does it really need to be replaced?
Luke's Answer:
I appreciate your question....Old style neoprene belts would crack with age, making it pretty obvious to Redmond drivers when they needed to be replaced. Nowadays, serpentine belts are made from a different material that doesn't crack or glaze the way neoprene did.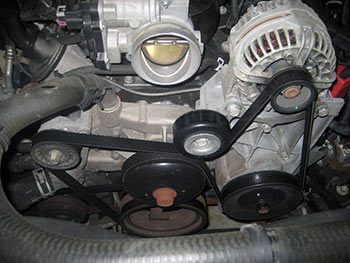 Stepping back, the serpentine belt transfers power from the engine to various accessories like the alternator, power steering pump and air conditioning compressor - even the power brakes and water pump on some vehicles. Modern serpentine belts have several grooves running their length. These grooves mate with the pulleys on the accessories. When the belt is within its useful life, it spins the accessories at the designed speed.
Over time, belt material is worn away. When as little as 5% of the material is lost, the belt can slip and not properly spin the accessories, leading to stress and damage.
Using a special tool, your friendly and knowledgeable Luke's Automotive service advisor can measure the material lost in your serpentine belt. He will indicate if it needs to be replaced.
It's for Redmond citizens to understand that the serpentine belt is part of the accessory belt drive system, which also includes the serpentine belt tensioner and any idler pulleys. The belt tensioner has the same service life as the belt itself, so if it is time to replace the belt, you should also replace the tensioner and idler pulleys as well.
A worn belt tensioner can cause belt slip and enough belt-slap to really hammer the accessory upstream from the tensioner. Running too long with a worn belt, tensioner or idler pulleys causes excessive heat at the accessory pulleys, resulting in inefficiency, damage and premature replacement.
Luke's Automotive in Redmond can perform tests to see if your belt or tensioner is worn and should be replaced. Ask your service advisor if it's time for a serpentine belt system replacement.
Give us a call - 425.885.4333
Luke's Automotive
15145 NE 90th St
Redmond, Washington 98052

---
My tire pressure warning light came on recently. What does that mean?
By: Luke Shaff ~ 11/8/2018
Luke's Answer:
It means that one or more of your tires has low air pressure. The dashboard warning light, which looks like a cross-section of a tire with some lines in it, comes on when the tire pressure is 20% below what the manufacturer recommends. So if your recommendation is for 35 psi (pounds per square inch), the light will come on when your pressure falls to 28 psi.
It's important to note that 20% below recommended pressure is significantly under-inflated. This means that you will be experiencing degraded handling and that your tire will be running hotter than it should. This can not only be a safety hazard, but your tires will wear prematurely and could even suffer a heat related failure.
Redmond drivers should not use their Tire Pressure Monitoring System (TPMS) warning light as their trigger for checking their tire pressure. They should still check their tire pressure at least once a month.
Some Redmond drivers mistake the tire pressure printed on the side of the tire as the recommended pressure for the vehicle. This is not the case. The information on the tire is the range the tire can handle. The correct pressure for your vehicle is on a plate or sticker on the driver's side door or door jamb. This is the pressure your tires should have to match the engineered handling capacity of your vehicle. Please note that the pressure may be different for your front and rear tires.
Your TPMS does not have a regularly scheduled maintenance interval. However, be aware that the batteries in the sensors mounted in each wheel will eventually die, illuminating the warning light and necessitating replacing the sensor. Sensors can also be damaged by road salt and other contaminants.
Some TPMS systems indicate tire pressures for individual wheels which will tell Redmond drivers which tire is low – as long as the system has been reset after rotating the tires. Other systems will simply give a warning, and it is up to you to check all your tires (including the spare). For more information, please ask our friendly and knowledgeable Luke's Automotive service advisors.
The government mandated TPMS systems to reduce tire-related accidents, property damage, injuries and deaths. The automotive professionals at Luke's Automotive in Redmond recommend that you have your tire pressure checked at least once a month to maintain your safety and increase tire life.
Give us a call.
425.885.4333